Before delving into the pages of a well-structured marketing plan, let's first find out how many types of such plans we could create and how they differ.
The main types of marketing plans
The marketing plan is primarily determined by the strategic plans of a company, whether it is to launch a new product, to develop a market as a leader (P&G is a master of this strategy) or to access new segments.
According to Brand Strategy Insider, there are four types of marketing strategies that guide the types of marketing plans we see in action:
1. Market penetration.
Market penetration is when a company decides to market its existing products to existing customers. This is the most popular strategy in the business world.
2. Market development.
The strategy is when the company decides to sell its existing brands on new markets, focusing on developing distribution channels, marketing activities increasing brand awareness.
3. Product/Service development.
This type of development strategy is about launching new products and selling them to existing customers.
4. Diversification.
Diversification is the fourth type of strategies and is focused on launching new products or services in new markets.
The chart below will help you remember these four types of marketing strategies easier: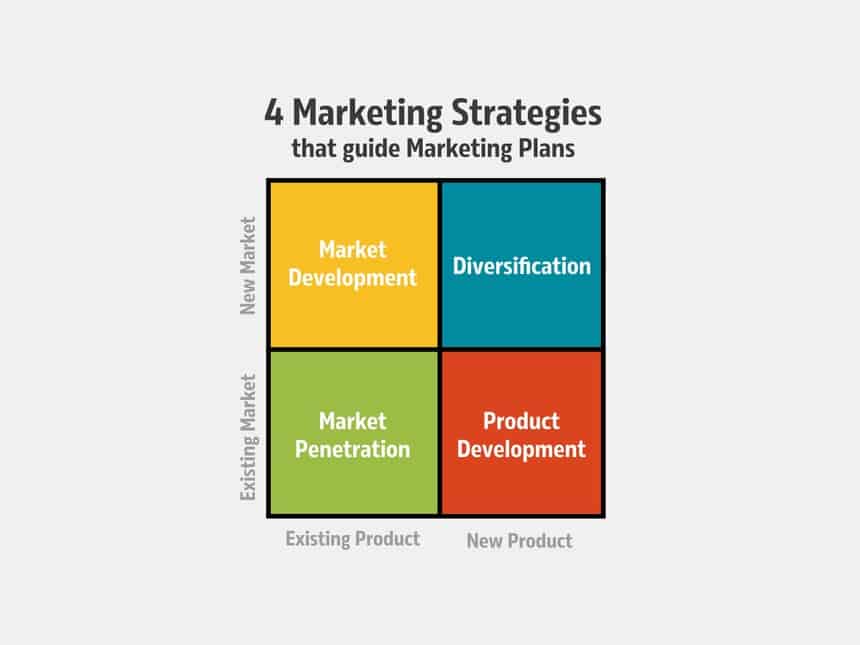 Types of marketing plans used by digital businesses
From my point of view, the marketing plan should be like a master plan, to include all activities. However, some businesses use only digital channels so their marketing plans are ultra-specialized. For this reason, the current digital marketing literature lists several types of Marketing Plans for digitally-focused companies:
Social Media Marketing Plan

Typically it includes the strategy for organic and paid growth, for channels that disseminate information, but also tactics and efforts to communicate with fans and followers.

Content Marketing Plan

I would not include it separately because Content Marketing is a digital marketing activity, to which you add the word "plan". So It is a proposal of the direction of communication, tactics, strategies and campaigns in which you will use this content component for a precise promotion. Read my POV about content marketing here.

Performance Marketing Plan

This indeed can work as a standalone plan in case the only sales channel is the online ads. The performance marketing plan includes the paid online strategies like PPC or native ads, budgets and timings.
Other sub-types of marketing plans for digital marketers
As I mentioned in the previous article about the Marketing Plan, there are companies that decide not to commit to a year-round marketing plan because the market they are in is high volatile. For this reason, if you ask agile entrepreneurs you will probably also hear about two special types of temporary marketing plans:
Quarterly Marketing Plan

This category consists of plans that include strategies and campaigns focused on a determined period of time, usually a trimester.

Campaign Marketing Plan (super-tactical – e.g. for a product launch)

The name is descriptive enough – it can be used by fresh startups or for prototype products and focuses on identifying the most profitable way to market a new product.
Sources: