Google My Business added a new "Last updated" feature for visitors to see clearly when the profile of a company has been the last time updated.
For search engine optimization specialists, this is not something new because Yelp had this type of update during the COVID-19 crisis. Taking into account the general sense of urgency all around the world, these features are highly useful for the average Internet user that is searching for product availability and special days opening program.
"Last updated" recency feature is not available in all countries
Look at the picture below, where I compared this feature from an Abercrombie shop in the US with a Mango shop in Romania.
For many countries such as Romania, the "Last updated" recency feature is not implemented yet in Google My Business and I find it strange because users have basically the same needs for reliable GMB data as in the US.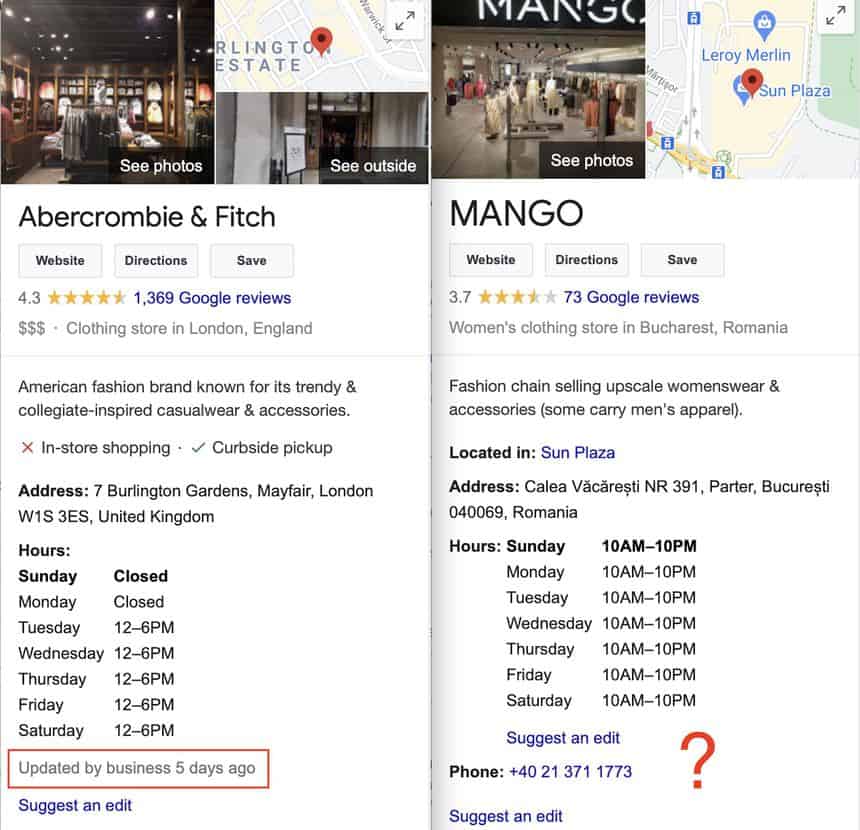 Google My Business added lots of features to support the COVID-19 hectic schedule of businesses, including "Support this business", online appointments and online classes, secondary hours, opening hours for seniors and pregnant women, and some features for food delivery businesses which are aimed to protect the struggling restaurants.
Yelp new features for businesses
Yelp on the other hand offers just like Google My Business several options for business owners: a badge for businesses that offer online services such as consultations and classes, more filtering options for restaurant deliveries, collections of relevant and open businesses during COVID-19 crisis, banners for business pages and Yelp Connect, a free messaging service for customers and businesses.