Big data in healthcare is a critical digital asset that ultimately can lead to increasing the human lifespan anywhere across the globe. For example, big data was utterly important in managing the current coronavirus pandemic at local and global levels, but also in the genetic laboratories that developed the new vaccines.
On almost every corner of our planet, by using digital technology health professionals generate high amounts of data during their interactions with patients, business partners, or via their own research activities.
The importance of this topic, in this article I'm going to share new insights regarding health statistics based on the experience I had together working in this field.
When was the term "Big Data" invented?
According to digitalauthority.com, the Wird tech magazine introduced the new term in the vocabulary in 2007. The reality of big data was already in use but without a name, so only 2 years later, McKinsey consultancy company estimated that the big US companies were generating on average over 200 TB of data.
What companies use the most Big Data?
According to specialists in the field, big data is used most frequently in the following fields: healthcare, financial & banking, and production.
The first two sectors generate high amounts of personal (patient) data, the second generates synthetic (financial) records, while production needs to correlate various operational data (production, distribution) across the supply chain.
In each of these top 3 sectors, big data analysis and predictive analytics are providing critical insights used in forecasting, diagnosing, and improving core activities.
What is Big Data in healthcare?
Doctors always try to understand everything regarding their profession and their patients' health. However, today's health sector generates new information more in the form of statistics than academic papers or medical books, so doctors rely more on more for discoveries and insights on big data analytics.
It all starts with the electronic health records or EHRs, which include several fields of personal data such as age, gender, medical history, blood test results, genetic information, and other sensitive details.
The biggest hurdle for healthcare integrating big data analytics
For healthcare companies, the no.1 challenge is that despite the fact they have digital instruments through which they collect personal data, they are not prepared for a big data healthcare integration.
How can big data help healthcare businesses?
The ultimate goal regarding big data for a healthcare provider is the full digitalization of health analytics collected from patients, doctors, partners, and suppliers which should generate real-time valuable big data analytics.
By applying machine learning and artificial intelligence to top-class big data storage, a healthcare company will not only gain a competitive edge and increase its revenue, but it would also be able to identify and address critical health issues within certain patient groups. That being said, at the end of the day, big data will save lives and help doctors improve the patients' quality of life.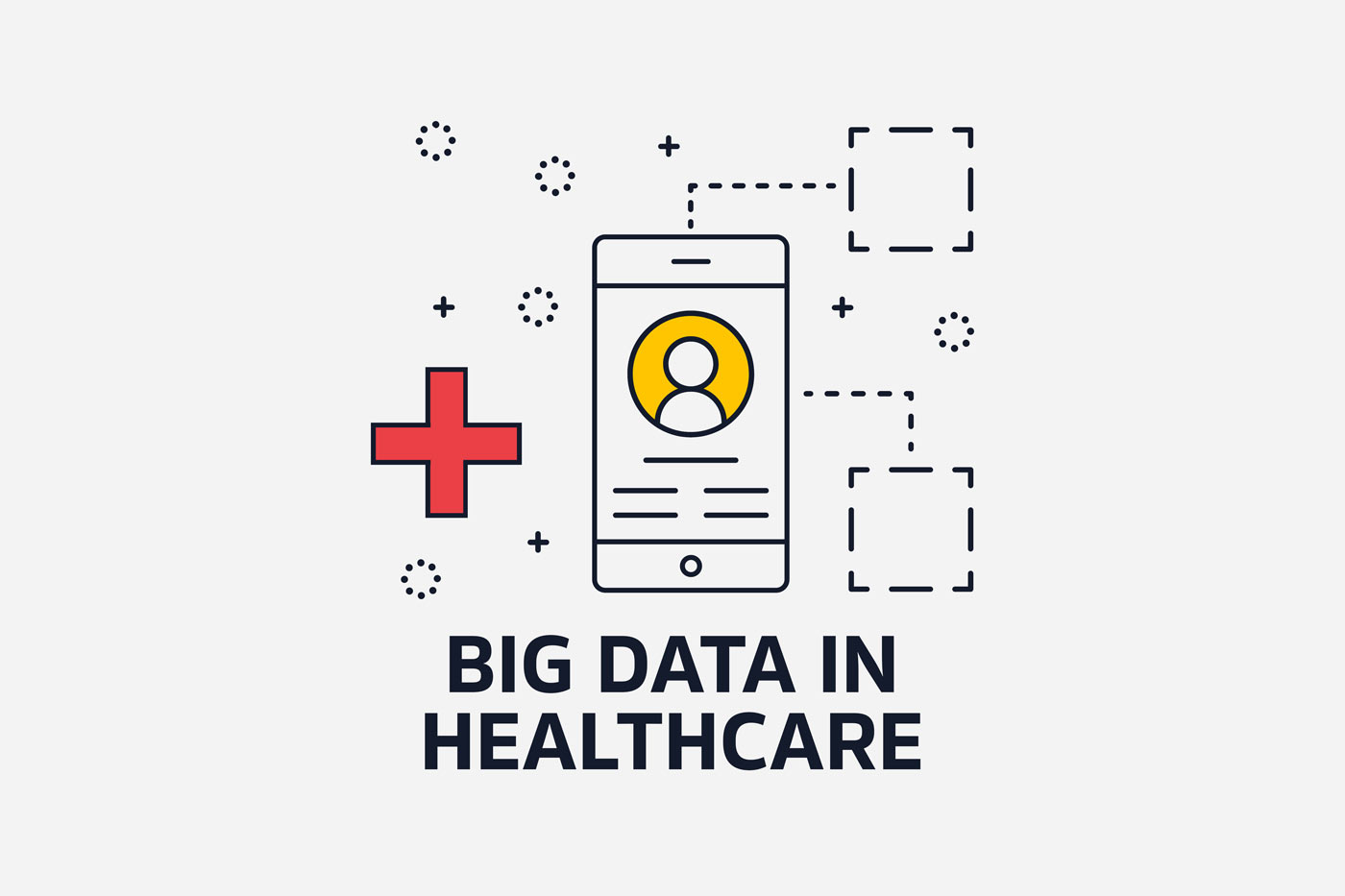 How big data will transform the healthcare sector
The applicability of big data solutions in healthcare is very diverse. For this article I have identified over 20 areas in which healthcare big data plays or will play this century a major role:
Disease management
Disease seasonality and patterns
Improve diagnostics
Medical imaging investigations
Prevention
Vaccines development
Oncology treatment
Telemedicine
Health alerts
Patient profile in emergency services
Correlations between treatments
Education
Health studies
New therapies
New genetic tests
Managing side effects
Staff management
Reducing costs
Marketing activities
Healthcare customer segmentation
Patient satisfaction
Optimized route to market
Which non-healthcare companies are championing big data analytics?
Besides high-scale digitalization, a secret in the success stories of every big data analytics is Data Consolidation, which refers to the range of digital activities that standardize and structure the vast amounts of collected information. Companies that are highly disciplined with every third-party interaction and how data collection is performing, generally manage easily any high amount of data.
Additionally, these companies also invest in machine learning for their large scale use of big data. So currently if you deal with big data you'll be more likely to benefit I'm using it by standardizing and consolidating high quantities of data.
Case study 1: IBM Slam Tracker impact on Sports Big Data
IBM introduced the famous tool used to measure the popularity of tennis players during major events, gives those watching the match a real-time projection of how a player is seen by those on the Internet at that time.
Case study 2: UPS approach on Big Data
UPS began using Big Data in 1990 when it developed a series of ideas for solutions based on descriptive analysis. It collected all data from known sources, which were related to the performance of its business, from laptops, which collects information about packages, telematics devices installed on trucks, GPS and GIS systems used, and information on alternative routes. After an in-depth analysis, a better transport solution was found than the one used.
The new system combines all the elements, including portable devices, even the smartest worn by drivers. Jack Levis, deputy process director at UPS, the new tools that use big data used have led to a reduction in the number of km traveled by cars per year, have been reduced by $85 million, saving 22 million liters of fuel per year, reducing carbon dioxide emissions by 85,000 tonnes (m3).
Currently, UPS uses Big Data at an advanced level and implements the ORION system to automate the process to know if a package arrives where it needs to, at the right time. According to the company's calculations, ORION should save UPS from spending about $300 million a year (estimated in 2016).
New statistics and facts regarding big data healthcare
By 2024 the global big data analytics sector's worth will reach $68 billion;
In the US, big data healthcare will register a compound annual growth rate of 36% until 2025;
Experts estimate that big data could reduce healthcare expenditure by 8% in the US and generate over $300 billion in value yearly;
US case study: in Michigan, the post-surgical death rate was reduced by 67% through big data analytics.
Big data platforms used by healthcare companies
Healthcare companies manage highly sensitive patient data and medical data such as electronic health records, genomic data, medical records, notes about high-risk diseases and conditions, and more. For this reason, however, in general, they rely on keeping the raw data on their own premises (server hosting).
Reports show that the top five platforms popular amongst healthcare marketing and IT professionals are:
1. 1010Data – market intelligence and business analytics solution that helps you track consumer insights and market trends
2. Cloudera – multi-environment analytics platform developed through integrated open source technology to help users extract insights from data present in any environment.
3. Pivotal Big Data Suite – an integrated solution that offers big data management and analytics
4. Microsoft Azure HDInsight – With it you can go from raw data to new insights. It stores all data, structured, unstructured, and flows inside and outside the organization. It gives the business the chance to gain deep insights with the help of familiar tools such as Excel, Office 365, but also to make complex decisions, faster.
5. SAP HANA – in-memory database for SAP's Business Technology platform with powerful data processing and analysis capabilities that reduce data redundancy and data footprint, while optimizing hardware and IT operational needs to support business in real-time.
If you are interested more in this topic, I recommend you to read the article Big Data in Marketing.
Sources: