Microsoft Clarity is a free analytics tool that gives you more insights on how users are interacting with on your website. It's a very good free alternative to Hotjar and it was launched on October 28, 2020.
The company claims that Clarity is a GDPR compliant tool, being privacy-focused while helping websites managers together insightful data without invading the users' privacy.
If I'd compare it with Hotjar, the tool I currently use, Microsoft Clarity is boosted by stronger analytics, which brings more eCommerce value to marketers.
What are the features of Microsoft Clarity
Microsoft clarity tool offers three categories of functionalities:
Session playbacks
Heatmaps
Insights
What metrics does Microsoft Clarity include
Non-clickable metrics in the Clarity dashboard:
Sessions
Pages per session
Scroll depth
Engagement (active/inactive), measured in minutes
Dead clicks (when the user clicked on an area or element without effect)
Rage clicks (when the user clicked rapidly several times on an area or element)
Referrers
Devices
Browsers
JavaScript errors
Countries
Operating systems
These are also two metrics in Clarity that allow seeing recordings, heatmaps or both:
Quick backs (when the user returns back from one page to another)
Popular pages (with URLs)
Why you should use Clarity
First of all, it's GDPR compliant;
Another important aspect is that for now, it's free of charge;
Clarity is very easy to use and doesn't load your website with heavy scripts;
Data is being analysed and presented in real-time;
You can set up as many websites as you like in your account. There is no limit to it;
The script is suitable for a small size and lifestyles website as well;
Clarity is very easy to customise;
There is no traffic limit for analysing your websites;
Microsoft put to work artificial intelligence and machine learning algorithms to analyse the users' behaviour.
Session Playbacks feature in Microsoft Clarity
The sessions playbacks section allows you to see how your visitors interacted with your website, where they clicked and which areas made them pause.
This section also allows you to watch the videos of your users' sessions, which elements they clicked with the cursor, how many clicks were registered, but also where they decided to scroll.
The elements in your pages that have been clicked are highlighted as boxes, so you can click them to see more insights on how the users interact with them.
Filters in Clarity
Another cool feature is the generous list of available filters.
You can use the filter button in the top bar that will show you lots of options, including the device that have been used by visitors, time frame, user actions, interactions and more.
Standard Filters
Here is the complete list of standard filters in Microsoft Clarity:
Time frame
Today
Last 3 days
Last 7 days
Last 30 days
Custom
Insights
Rage clicks
Dead clicks
Excessive scrolling
Quick backs
Device
User actions
Cursor movement
Entered text
Selected text
Resized page
Advanced filters
In the Advanced filters tab you also have more options to narrow down your insights pursuit:
User info
Browser
Operating system
Device
Path
Visited URL
Entry URL
Exit URL
Referring site
Session
Session duration
Session click count
Session page count
Page
Page duration
Page click count
JavaScript error
Image error
Page size
Screen resolution
Visible page
Hidden page
Insights
Rage clicks
Dead clicks
Excessive scrolling
Quick backs
User actions
Cursor movement
Entered text
Selected text
Resized page
Page scroll depth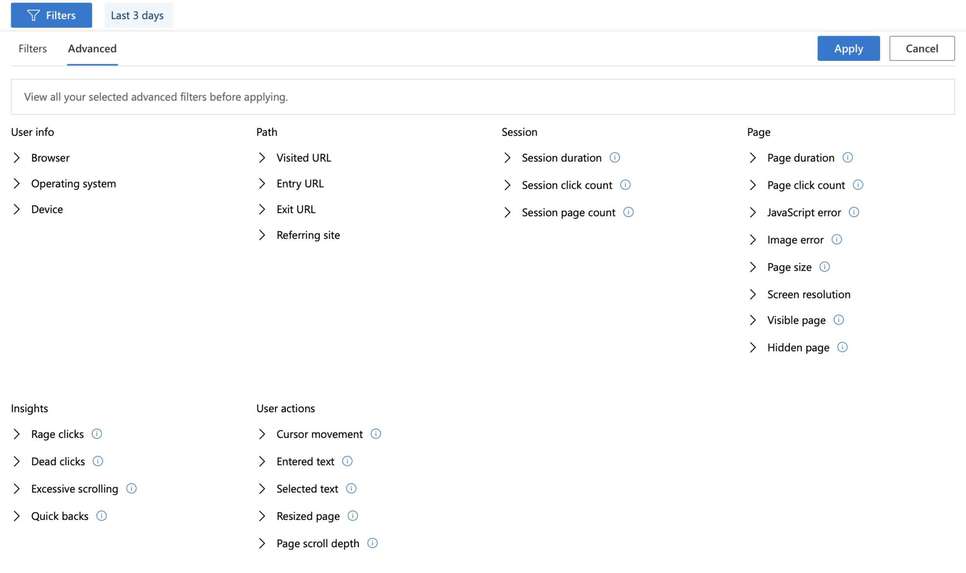 Heatmaps in Microsoft Clarity
If you're reading this I assume you may know what the heatmap is. In case you don't, I will mention that the heatmap is a digital marketing tracking tool that shows visually where our website registers clicks from the users.
Heatmaps are extremely useful to see User Experience (UX), to measure customer experience KPIs and to redesign your website's pages so they can generate maximum engagement.
Unfortunately, the scrolling feature is not yet available in Microsoft Clarity, but the company mentioned that it is on the pipeline.
Insights dashboard in Microsoft Clarity
Microsoft Clarity also offers an insights dashboard of aggregate metrics, where we can see if users clicked on areas or elements that are not linked, helping you to increase page engagement.
On the technical side, you may see how many JavaScript errors are registered on your site, but also the time spent by users on your website.
How to sign up for Microsoft Clarity
First, go directly to Microsoft Clarity page. For now, the tool is free to use and you may sign up via:
Microsoft Account
Facebook Account
Google Account
How to setup Microsoft Clarity in WordPress
For WordPress or WooCommerce you have three options to set up and activate Clarity.
Install the dedicated plugin
Microsoft launched its own plugin for Clarity which you can download from the WordPress plugin repository. Here is the link: Clarity plugin for WordPress.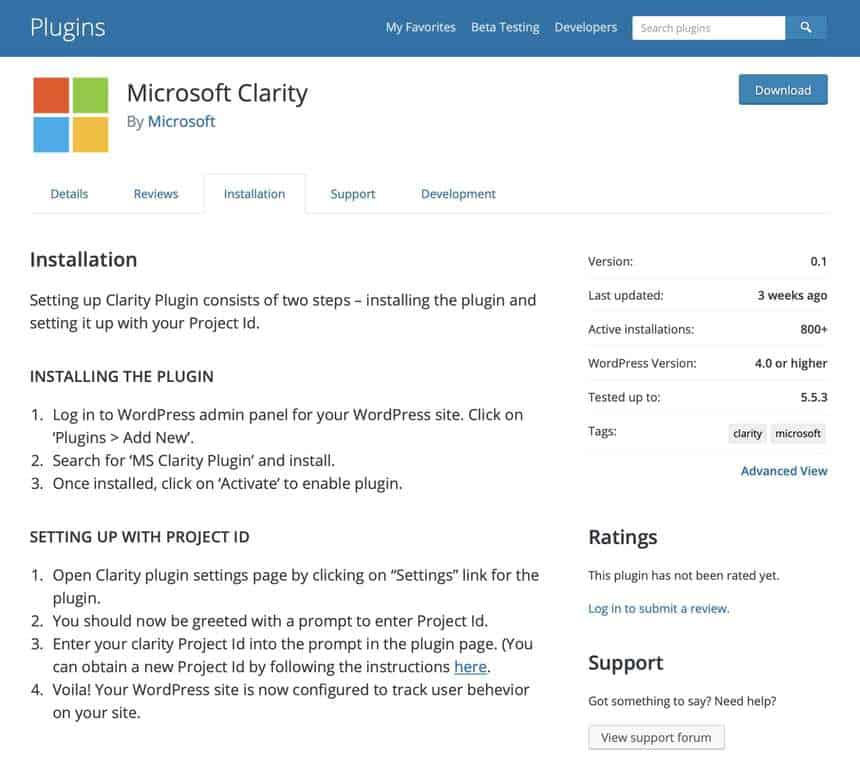 Install the tracking code manually
The tracking code is very easy to install, you just have to copy-paste it, similar to Google Analytics.
Clarity script impact on Page Speed
I didn't see a significant negative effect in PageSpeed insights or GTMetrix, so I am very pleased how smooth the manual tracking code runs on this site.
Google Analytics integration with Clarity
Although integration with Google Analytics 4 isn't yet available, you can choose to collect the data by connecting your Microsoft Clarity account with Google Analytics.
Go to your Project Settings and connect to Google Analytics directly from there.
Install tracking code on other CMS platforms
Besides WordPress and Woocommerce, you can install and activate the script also for other platforms:
Adobe Dynamic Tag Manager (DTM)
ClickFunnels
Google Tag Manager
Shopify
SquareSpace
unbounce
Weebly
Wix
As you may see, I tried already the tool and I think it's worth installing and using on a daily basis.
FAQs
What is the price for using Clarity?
Currently (2020) the tool is free of charge.
Is Clarity respecting GDPR?
Microsoft is compliant as a data controller, and Clarity is following GDPR regulations - for more details, check Microsoft Privacy Statement.
Resources: