The only important news during Oct 5-11, 2020 was that Google shared via Danny Sullivan, Public Liaison for Search a list of valuable insights on how Autocomplete predictions are generated in Google Search.
How predictions are listed in Autocomplete
First of all, Autocomplete predictions are filled with similar queries for what the online user is searching. If the user searched "best airline", Google will suggest similar queries to this one, such as:
best airlines in the world
best airlines
best airline credit card
best airlines to fly
best airlines in the world 2020
best airline stock to buy
best airlines in India
best airline to fly during covid
best airlines during covid
best airline stocks to buy now
How are Autocomplete predictions created?
First of all, Google says that all Autocomplete predictions are based on real user searches, so they're not manufactured by algorithms or AI. It's in Google's interest to be relevant to its users, so sharing what other people are searching for makes total sense rather than creating new queries.
Why Autocomplete predictions may vary
As some of you may have mentioned, using a browser in a different language or from a different location shows different Autocomplete predictions.
Let's see an example for the same query in Safari browser, using a Romanian IP and an American IP, searching for  "bmw price":
Romanian search Autocomplete suggestions: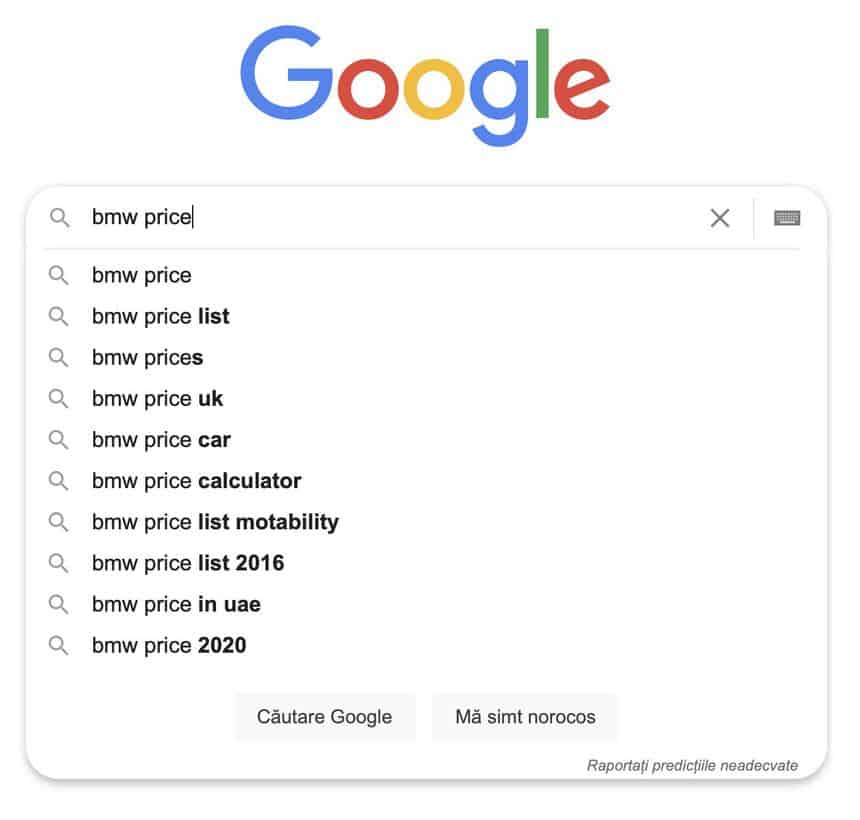 American search Autocomplete suggestions: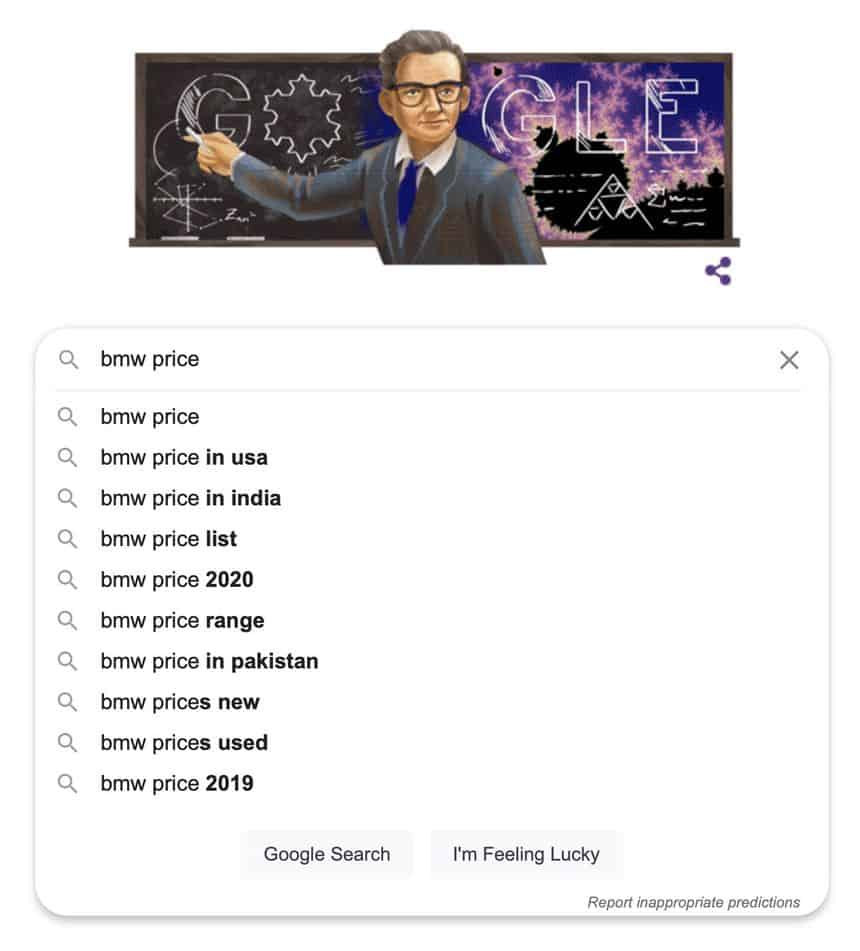 As you may see above, the results are quite different, showing that Google tries to approximate what the user needs. The closes territory for Romanians searching in English "bmw price" is the UK, which makes geographical sense, as the UK is closer to Romania than the US.
Predicting portions of a search
Sometimes, Google has enough queries to perform on the go predictions, suggesting Autocomplete items for the last part of the search string.
The easiest to test it is to search something specific, like "the actor that plays for" and google will suggest:
for black panther
for pennywise
for harry potter
for joker
for thor
for mandalorian
for spiderman
for aquaman
for anakin skywalker
for thanos
Rich Autocomplete predictions
More and more, as Google will gather featured images for each URL or topic, these results will catch our eyes and the respective queries will stand out. Pay attention to Rich Autocomplete predictions.
Autocomplete policies. How to report inappropriate predictions
As you have seen in the images above, below the list of predictions it's a link that says "Report inappropriate predictions".
All these rules have been listed by Google in their "Autocomplete policies", which includes:
Violent or gory predictions
Sexually explicit, vulgar, or profane predictions
Hateful predictions against groups
Sensitive and disparaging terms associated with named individuals
Dangerous predictions
Read more on blog.google.