It's time for the second volume of terms from my SEO Dictionary, which will help you expand easily your professional vocabulary, starting with Structured Data. Here's today's goodies list:
Structured data
I started this part of my SEO dictionary with the most important thing in user-centric SEO: structure.
Google wrote many years ago that it aims to structure the information on the internet in the best possible way so that users could find their answers in the shortest time possible.
Google says in its guidelines:
Structured data is a standardized format for providing information about a page and classifying the page content; for example, on a recipe page, what are the ingredients, the cooking time and temperature, the calories, and so on.
Google
For an SEO specialist, structured data means all the processes and tools he/she needs to use in order to comply with Google's technical requirements for structuring their public website content.
Structured data is the core of many of the SEO dictionary terms below (SERP features, featured snippets, Rich Snippets, Rich Results), as they all are forms of structured data.
Structured data is so important for us that it has also its own testing tool: Structured Data Testing Tool.
In order to see what structured data it identifies, choose a website that has more than a title, link, and description in Google search results and test to see what Structured Data finds.
See an example from my work for the new Synevo.bg website, for laboratory test page:
SERP features
SERP features are content sections in Google Search results page that appear for some terms and which do not use the standard website page listing (title, short description, URL).
We could split them into 4 categories:
Rich Snippets: Eye-friendly or useful elements such as prices, recipes, product ratings;
Ads: In some countries besides AdWords users see products listed in Google Shopping, with image and price;
General Snippets:  Content that accompanies a website in search results: images, videos, featured snippets;
Knowledge Graph: Sections that present data in a more intellectual way (e.g. knowledge card, aka graphs)
SERP features are spectacular and many times they receive more clicks than the website covering the first position. The most common examples are:
Featured Snippets;
Reviews (star ratings for products or content);
Local Pack (info regarding nearby local businesses);
Site Links (important sections of a website);
Videos;
Top Stories;
FAQs (those clickable tabs with answers to questions, or "People also ask" sections).
You could read more about SERP features in this article from Semrush.
Featured snippets
Featured snippets are convenient, concise pieces of information (usually text) that offer an instant partial answer in Google search results page, without having to click anything nor to visit the target website.
Most of the times they precede the title of a website in the search results page.
Ahrefs estimated in an extensive study that 12.3% of search results have featured snippets.
Moreover, they determined that a website that ranks first and has also featured snippets can capture even 28.2% of all clicks from that search query.
However, I've seen that all these features are highly volatile, so as Google is changing display algorithms constantly, the figures above will vary significantly in the future.
Rich Results vs. Rich Snippets
With so many new words being invented in digital marketing and specialists debating about them, no wonder sometimes some people got to talk differently about the same things. It's the case for Rich Results vs. Rich Snippets.
Is there any difference between these two? Well, yes, there is.
Rich Results
First, Rich Results is a general term, which includes all visual representations of search engine results pages (SERPs). Rich Snippets are one of them.
Rich Snippets
On the other hand, Rich Snippets are chunks of data (usually eye-catchy) that accompany a website listed in SERP besides its link, title, and meta description. See some of them in the image below.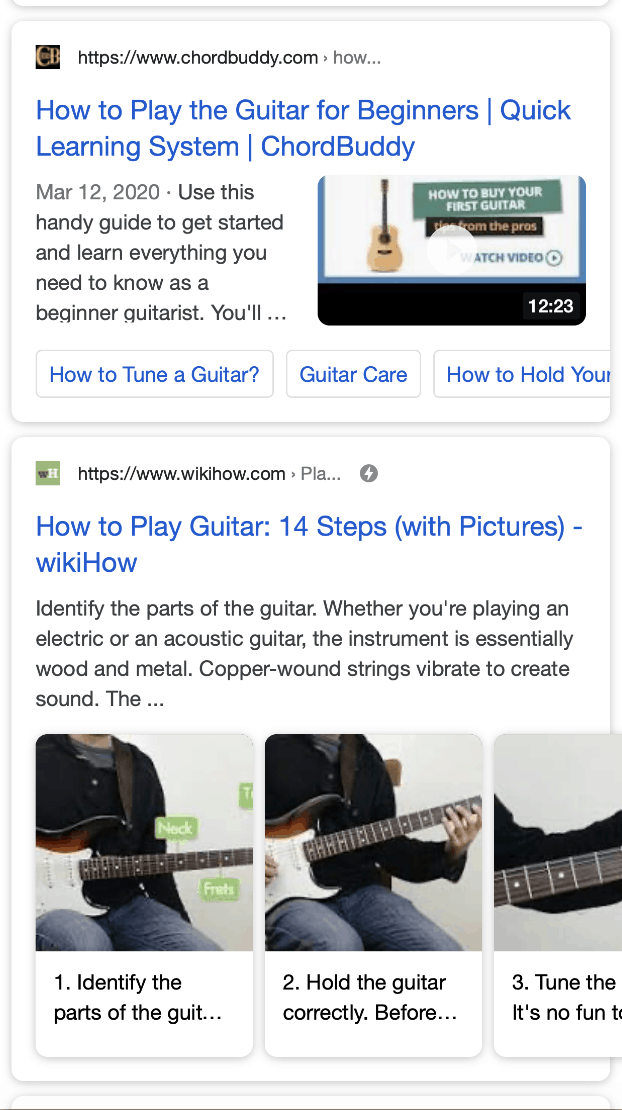 The reason Google introduced Rich Snippets is that it already managed to structure certain categories of data from the websites it indexed.
Because of the 8% extra clicks that they generate in the first SERP (according to Moz.com), today all SEO specialists work on their websites to generate as many Rich Snippets as possible.
YMYL (Your Money or Your Life) websites
Google created a special category of websites for which sometimes create targeted search algorithm updates.
In this category are included all financial, medical, and legal websites. Important to know, this isn't only about company-owned sites, but also private ones.
Web pages of individuals that offer professional or qualified advice regarding health, money, or life management are automatically included in YMYL.
For these sites, Google set a special set of rules for assessing content quality, which is called E-A-T ratings (detailed below). As discriminatory as this sounds, this set of rules makes sense given the importance of YMYL websites.f
YMYL is a wider concept than thought initially, as now it covers also all web stores that have payment gateways in their checkout pages.
EAT (or E-A-T)
In the digital dictionary, EAT is the acronym for "Expertise, Authoritativeness, Trustwothiness". It was launched by Google as "human rating guidelines" way back in 2013, in an effort to make its rating guidelines transparent.
Initially, it was more of an editorial guideline, but starting with 2018 Google algorithm updates, it became a critical factor for page quality scores, but also for Google ranking (although some SEO specialists still debate on that).
What do these three principles (Expertise, Authoritativeness, Trustworthiness) stand for, and why are they important?
Expertise: This principle means that the author(s) of the content on a website must prove they have expertise in that field. For example, on a  website, the author (including the company) needs to have a name, picture, and detailed profile.
Authoritativeness: This term refers basically to what authority requires – recognition, leadership. It's what we expect in any source of information, whether is about news, health management, or legal advice.
Trustworthiness: It assesses how believable the website, content, and author are all together. I would say that trustworthiness is the final objective for any piece of content indexed by Google.
As I was mentioned in a previous article, websites must be created for people, not rankings. For YMYL websites, focusing on getting high EAT ratings is critical, but this approach is in fact highly useful for non-YMYL sites, too.
The key-take-out here is that creating a user-centered website has far more chances of getting positively rated by Google's search algorithm.
URL: A forgotten term in SEO dictionary
So, to answer the question, the famous URL stands for Uniform Resource Locators. It's not a fancy name, but it excels through its importance and role in our online life. As you already know, it refers to the unique addresses where individual pieces of content can be found on the web.